Effective collection of your receivables!
Contact us to find out how we can help you !
The overriding goal of EWRA Ltd. is to provide services for the B2B sector at an above-average level, while respecting business relations. We are distinguished by many years of experience and expert knowledge. We do not focus on risky innovations, because the safety of our customers is of utmost importance to us.

Debt collection
Answering the needs of the Polish entrepreneurs we place importance on comprehensive approach to your receiveables' eviction. We help at every step of the case.

Liability and motor hull insurance damages
You had a crash, the damage was removed from the perpetrator's civil liability policy and it was the first damage to your vehicle? Contact us, and we will help you get additional compensation.

IT systems and solutions
Every Ewra's customer receives full company support in the implementation and service of the solutions we offer, throughout the whole period of cooperation.

Trainings
We also conduct trainings on debt collection and negotiations. Our employees include certified trainers who are willing to share their knowledge.
Why should you work with us?
We offer individual approach and tailor-made solutions, and our offer includes only what we really know and have been doing for many years. Thanks to our professional approach many clients have already trusted us.
We invite you to cooperation!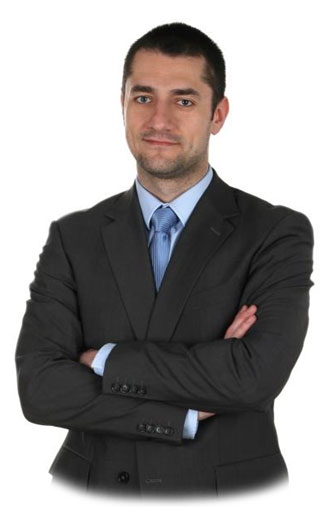 Marcin Ziemski – Co-owner of EWRA Ltd.
A graduate of Faculty of Law at the University of Wroclaw and post-graduate studies in Business Psychology. For many years he has been connected with debt collection industry on commission and receiveables trading. The originator and co-creator of a few recognized companies in debt colllection industry of B2B sector, where he has always been responsible for business strategy and operational division.
Among the most important experiences, he mentions numerous restructurings of the Clients' internal processes in the field of receivables management, establishing and coordinating cooperation with leading receivables insurers on the Polish market, as well as building all the companies in which he operates from scratch. He combines work with passion, thanks to which he is constantly engaged in debt collection processes carried out for his Clients.
He loves competition and new challenges, although when asked about his biggest asset he mentions self-discipline and ambition. Privately the owner of three cats and a dog. Active martial arts lover, former competitor and certified Karate Shinkyokushin referee.